The National Eye Institute (NEI) has developed a zebrafish model of NEDBEH, a rare genetic disease that can cause coloboma, a condition in which parts of the eye are absent due to developmental defects. The model is a new tool for understanding the embryonic development of the eye.
"Despite advances in genetics, the underlying cause of coloboma in most families remains unclear," said Brian Brooks, M.D., Ph.D., chief of the NEI Ophthalmic Genetics and Visual Function Branch. The ongoing mystery is partly due to the myriad genes that must be turned on and off at pivotal moments for the eye's normal development.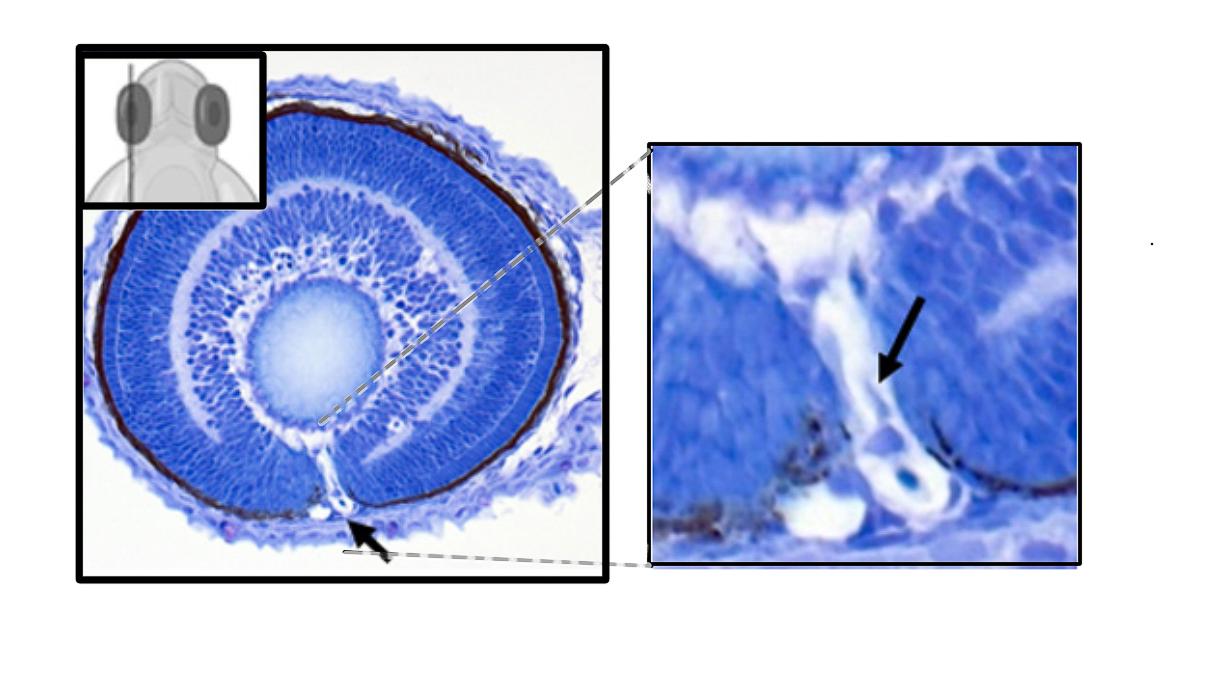 Cross section of an embryonic rerea mutant zebrafish eye showing coloboma. In normal zebrafish, the optic fissure closes. Credit: Brian Brooks, National Eye Institute.
Brooks and George studied zebrafish with a mutation in the gene rerea, which is the zebrafish equivalent of the human RERE gene. mutants showed eye defects including enlarged optic stalks, eye tissue in the brain, and coloboma as compared to normal zebrafish. The optic stalk is a temporary ocular structure that connects the eye and the brain.
Brian Brooks, M.D., Ph.D. (left) and Aman George, Ph.D., NEI Ophthalmic Genetics & Visual Function Branch. Credit: National Eye Institute.
The rerea mutation changed the expression of critical developmental genes. Notably, the rerea mutation disrupted sonic hedgehog (shh) signaling, an important protein that guides the development of a range of organs and tissues, including the optic stalk and retina. The scientists saved coloboma by blocking the shh route at a separate site, resulting in correct closure of the ocular fissure.
"Our zebrafish model helps clarify the role of the RERE gene in eye development," said George. "Identifying appropriate model systems for studying coloboma is essential to understanding its underlying mechanisms and finding targets for rescuing defects."
For more information about coloboma, visit the NEI website.